When you're applying for a mortgage, many people are faced with having to secure Mortgage Default Insurance or what most people refer to as CMHC insurance. This is insurance that protects the lender in the case of a default on the mortgage loan. It does not protect you or cover payments in the case of death or disability. Insurance that protects you can come in the form of Mortgage Protection Plan (which we offer), other life insurance policies or any number of products offered by insurance companies. Default insurance protects the lender.
Who Has To Secure Default Insurance?
Any time you're securing a mortgage with less than 20% down payment, you are required to have mortgage default insurance. The exception being homes priced at over 1-million dollars. Mortgage default insurance is not available on homes purchased for more than $1 million; this means that a 20% down payment is required on these homes. If you're buying a property between $500,000 – $999,999 a higher down payment is required. The minimum down payment is 5% of the first $500,000, and then 10% of the remaining amount. When your mortgage is insured, the maximum amortization period you can attain is 25 years.
How Much is Default Insurance?
This depends on your down payment. The premium you pay is tied to the amount of money you're putting down. If you are putting down less than 20% of the purchase price, YOU pay the premium. This is referred to as an "Insured Mortgage". If you are putting down more than 20% the lender will pay the premium. This is referred to as an "Insurable Mortgage". Catch here, is that often-insurable mortgages carry slightly higher interest rates. An insured mortgage offers protection for the lender without the lender assuming the cost of the premium – so they offer preferred rates for these types of mortgages.
If you're putting down less than 20% – the cost of the premium varies – this chart from CMHC gives an overview of their structure.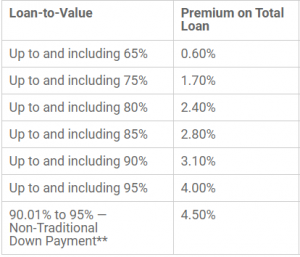 Image Courtesy: CMHC
Example:
You're buying a $100,000 property. You put down $5,000. Meaning you're borrowing 95% of the amount (your loan to value). In this case, your Default Insurance premium would be 4% of $95,000. Or $3,800. So, your total mortgage would be $98,800. Plus, your taxes on the premium. PST in Ontario is 8% which would be due on closing. The cost of the insurance can be rolled into the mortgage and paid off over the amortization period or can be paid at closing (which almost no one does). Taxes are not rolled in. The government gets paid up front.
Can I Shop for Default Insurance?
Not really, kinda sorta????  I say that with a little sarcasm, you see there is only 3 companies that offer default insurance and they're often selected by the lender. Those 3 companies are: 1. Canada Guaranty 2. Genworth and 3. CMHC (Canada Mortgage and Housing Corporation). CMHC is government owned, Genworth is a publicly traded company, and Canada Guaranty is owned by a private investor collective made up of the Ontario Teachers' Pension Plan and National Guaranty Holdings Inc.
As for shopping for Default Insurance, you or your broker/agent can request the lender apply to a specific insurer, but there are only 3 choices.
Can I Reduce My Default Premiums?
Yes. But you need to increase your down payment.
If you're able to do this, it is recommended as it can save you thousands in interest long term. If you're buying a home for $400,000 and you put 10% down (40k) Your mortgage is $360,000 plus your premium (3.10%) $11,160 bringing your mortgage to 371,1160. The interest difference over your 5-year term is substantial.
Scenario 1:  At 10% down payment with Default insurance – assuming 2.89% interest rate – and monthly payments. Total interest paid over a 5-year fixed mortgage is $49,551.
Scenario 2: At 20% down payment – same parameters -no default insurance – Total interest paid is $42,721.
***A savings of $6,830 (not including tax).
What Does it Look like for me?
If you're looking to see what the numbers look like for your situation, click here
If you have any more questions on default insurance and how if can affect your purchasing, please give me a call or drop me an email anytime we can set up an appointment.
Yours in success!
Joel Scott
905-376-1625
joels@ndlc.ca